To con­tact the kiBooka cre­ators or to order their books, please click through to their websites.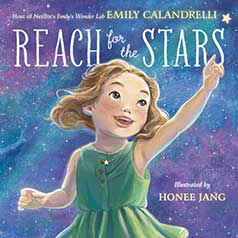 "Vin­tage-style dig­i­tal illus­tra­tions by Jang sup­ple­ment addi­tion­al details as the child ages: along­side "I'll teach you words like 'universe'/ as you begin to talk," the par­ent is shown explain­ing a solar sys­tem mod­el to their tod­dler, who sits rapt with hands fold­ed atop the sun. A gen­tle affir­ma­tion for sci­ence-inclined kids and their par­ents." (Pub­lish­ers Weekly)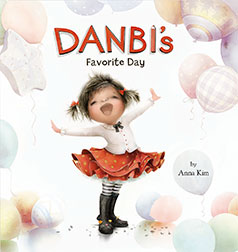 "Kim's exquis­ite art­work ren­ders dis­tinct per­son­al­i­ties and char­ac­ters rep­re­sent­ed by diverse skin col­ors and hair­styles, price­less expres­sions, and irre­press­ible ener­gy. An endear­ing and hope­ful expres­sion of spon­ta­neous fun and togeth­er­ness." (Kirkus Reviews, starred review)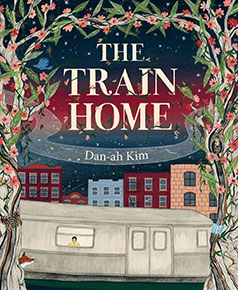 "An enchant­i­ng look at a child's quest for belong­ing. … Kim's mixed-media art is dynam­ic, sub­tly blend­ing real­ism with touch­es of whim­sy and lush nat­u­ral­is­tic detail. This under­stat­ed and cre­ative pic­ture book takes on the theme of being true to one­self and ends with the real­iza­tion that 'there's no place like home.'" (Horn Book Mag­a­zine)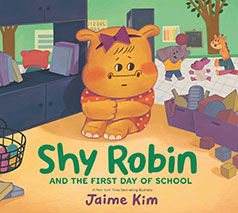 "Lov­ing­ly ren­dered chalky illus­tra­tions bring to life this tale in a well-paced bal­ance of spot art and spreads … Shy human children—especially those who feel more out­go­ing in a famil­iar environment—will be reas­sured that they will most cer­tain­ly not be the only ones ner­vous about their first day of school. … Encour­age­ment for those who are exu­ber­ant, loud, and full of ener­gy … but only at home. (Kirkus Reviews)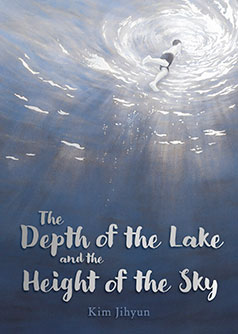 "Drawn and paint­ed in writ­ing ink, to show dif­fer­ent qual­i­ties of light, it's aston­ish­ing to behold." (The New York Times) "A word­less ode to the seren­i­ty of breath­ing deep in nature… A sim­ple yet mar­velous mus­ing on the beau­ty of the great out­doors." (Kirkus Reviews, starred review) "The pages with­in show­case spec­tac­u­lar illus­tra­tions and, with­out a sin­gle word, gor­geous­ly reveal a sto­ry of fam­i­ly, nature and dis­cov­ery… a word­less pic­ture book mas­ter­piece." (Shelf Aware­ness, starred review)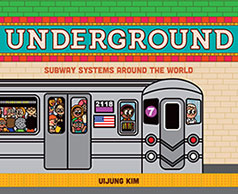 "A Where's Wal­do? for lovers of trains and trav­el, this look-and-find by Brook­lyn-based illus­tra­tor Kim takes read­ers into bustling sub­way sys­tems in 10 of the world's great metrop­o­lis­es. At each "stop," we first see the sub­way sta­tion plat­form and train, with facts and fig­ures about the trans­porta­tion sys­tem. Chil­dren will love search­ing for these beau­ti­ful for­eign items while indulging in the com­mon kid obses­sion over loco­mo­tives" (Book­list)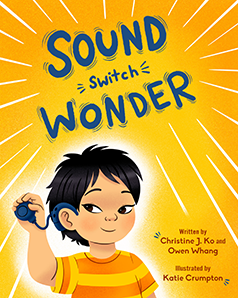 Most peo­ple either can or can­not hear sound … but some peo­ple can do both! Meet a deaf boy with cochlear implants as he moves about his day. Some­times he prefers not to hear, but when he wants to con­nect with the hear­ing world, he puts on his cochlear implants. How could he explain to his hear­ing par­ents what the absence of sound is like? Sud­den­ly he has an idea—the best way he knows how to share this part of him with those he loves. With whim­si­cal, bright illus­tra­tions and lyri­cal words, Sound Switch Won­der is a sweet and gen­tle sto­ry about shar­ing and embrac­ing differences.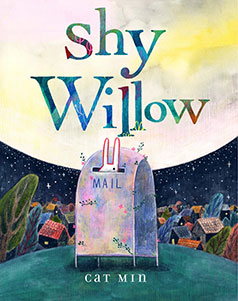 "Wil­low is a timid white rab­bit who prefers stay­ing home—an aban­doned mailbox—where it's cozy and qui­et. There she sketch­es and dreams, but her com­fort­able rou­tine is inter­rupt­ed when a let­ter flut­ters through the mail slot one day. A warm and won­drous adven­ture for arm­chair, or high chair, trav­el­ers." (Book­list, starred review)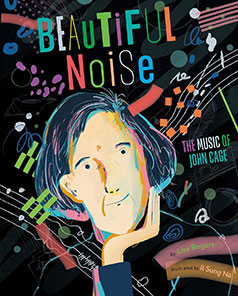 "Na's whim­si­cal illus­tra­tions vibrant­ly con­vey the cacoph­o­ny present in many Cage com­po­si­tions. Employ­ing a vocab­u­lary of images (squig­gles, slash­es, lines) rep­re­sent­ing sounds and emo­tions iden­ti­fied on the end­pa­pers, Na clear­ly rep­re­sents the unique and exper­i­men­tal nature of Cage's work. Many scenes por­tray cityscapes and crowd­ed con­cert halls. Blues and grays pre­dom­i­nate, although Na effec­tive­ly uses explo­sions of intense col­or to rep­re­sent some sounds." (Book­list, starred review)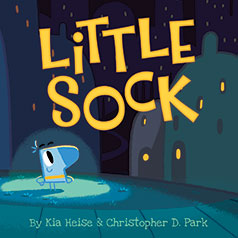 "Kia's straight­for­ward text is bol­stered by Park's live­ly illus­tra­tions that make excel­lent use of vary­ing per­spec­tives, col­ors, and humor­ous detail. The spread of the var­i­ous socks in Sock City will cap­ti­vate read­ers as they take in the vari­ety. VERDICT: A fun answer to where miss­ing socks go." (School Library Jour­nal)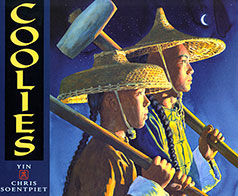 Par­ents Choice Gold Award; "This is an impor­tant sto­ry, full of dra­ma and emo­tion and it is here giv­en its prop­er recog­ni­tion and trib­ute in both words and glo­ri­ous art. Per­haps it will encour­age oth­er grand­par­ents to share their fam­i­ly his­to­ry as well. Mas­ter­ful." (Kirkus Reviews)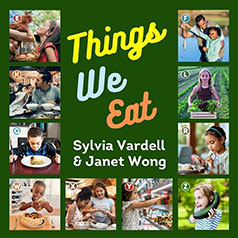 Poems about things we love to eat from A to Z, by diverse, estab­lished and new voic­es: Gail Aldous, Rebec­ca Bal­cár­cel, David Bowles, Sandy Brehl, Car­ol Bull­man, Yang­sook Choi, Kel­ly Con­roy, Nico­la Davies, Rebec­ca Kai Dotlich, Lin­da A. Dryfhout, There­sa Gaugh­an, Mary Lee Hahn, Geor­gia Heard, George Ella Lyon, JoAnn Ear­ly Mack­en, Elis­a­beth Nor­ton, Lisa Var­chol Per­ron, Jama Kim Rat­ti­gan, Joan Rior­dan, Pamela Ross, Don­na JT Smith, April Hal­prin Way­land, Vic­ki Wilke, Janet Wong, Jacque­line Wood­son, and Sarah Ziman.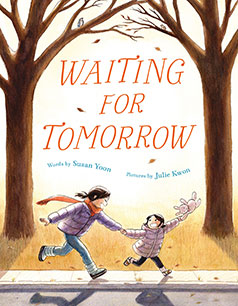 Appa is com­ing home tomor­row after a long time away, and sis­ters Hae­jin and Han­na want to make some­thing very spe­cial to greet his return. They spend the day prepar­ing their favorite treat―hotteok, a brown-sug­ar-filled Kore­an pan­cake. But when their bat­ter is ruined, how will they make some­thing spe­cial for tomorrow?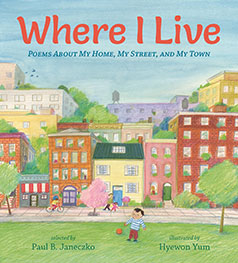 "Yum's trade­mark col­ored pen­cil and water­col­or illus­tra­tions are full spread. Graph­ic place­ment is well done, allow­ing Yum's art to cra­dle each piece. Peo­ple and places are diverse in artis­tic expres­sion, allow­ing read­ers to rec­og­nize them­selves in dif­fer­ent poems and increas­ing under­stand­ing for dif­fer­ent sit­u­a­tions." (School Library Jour­nal) Edi­tor: Paul B. Janeczko